Noyel
ノイエル Noi eru
You see Noyel. The laughters of children travel from the playground.
Region
North Tyris
Location
(89,14)
Music
mcTown6
Filename
noyel.map
Category:Noyel
Noyel is in the snowy area in the far east. Quests to deliver to or from here are often worth a great deal of money. It is also the only town with a sister. Unshackling the fire giant is not recommended; however, it can be highly profitable for someone with decent levels of speed and strong fire resistance.
To the east of the large church is a Holy Well, which has a much higher chance to raise a stat's potential or grant Wishes. Do not attempt to refill it using the normal mixing method; doing so will only yield the message stating the that holy well has been tainted.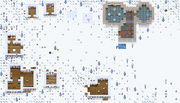 Identifier
Informer
Trainer
Inn
Bartender
Sister
Healer
Altar
What's unique?
Edit
Notable NPCs
Edit