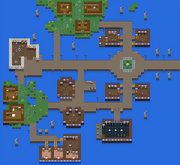 To the East of Palmia lies the island village Lumiest.
Baker
Fisher
Magic Vendor
Blacksmith
General Vendor
Trader
Innkeeper
Healer
Inn
Identifier
Informer
Trainer
Bartender
What's Unique?
Edit
Entire city surrounded by water.
Statues of Lulwy decorate the area: the statues are surrounded by water, but they are reachable after setting the surrounding squares on fire.
Large number of bards: unless you're feeling generous, bring your anti-bard device (i.e. your biggest weapon).
Notable NPC's
Edit
Ad blocker interference detected!
Wikia is a free-to-use site that makes money from advertising. We have a modified experience for viewers using ad blockers

Wikia is not accessible if you've made further modifications. Remove the custom ad blocker rule(s) and the page will load as expected.