Description
Edit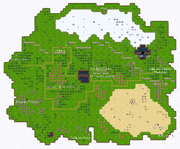 Lost Irva is a continent that is part of the Elona+ mod of Elona. It can only be reached after Act 2 of the
Elona+ Main quest
has been completed. Information on how to reach it is available
here
.
The map uses 3 music tracks for it's overworld music. These are tracks mcLost1, mcLost2, and mcLost3.
Because the continent has just been added in recent patches, it is very incomplete. So while there are a few interesting places, don't expect much yet. If the location is on the map but not listed below, it may be unimplemented. Trying to enter one of these places will just send you to a wilderness square.
While Lost Irva does have several locations resembling towns, they do not have many proper town functions. The continent is a work-in-progress, so this may change later on.
Other Locations
Edit
Cradle of Chaos: A dungeon with randomly generated floors located in the center of the continent. This is the main dungeon for the continent. Enemies inside the Cradle receive a level boost, but unlike the Void, each enemy is raised the same higher level rather than gaining a set amount of levels individually. It was added in patch 1.22.
Dragon's Volcano: Danger level 160. Home of <Vansesda> the ancient fire.