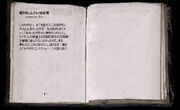 Insane book
is one of the rewards for the
Struggle against insanity
quest in Elona+. In the Japanese version of the game, reading this book and wishing for 隠しキャラ ("Hidden Character") adds a new pet to your party, one from the six hidden NPCs. The mission must be done beforehand, and trying to use other methods to illegally obtain the book will not enable the wishes. This may include talking to Caim afterwards. When the wish is made, a menu will appear that is very similar to the one where you choose your original pet when you enter Vernis for the first time. The characters are listed in the following order in the menu:
As of version 1.16, reading this book in the English version results in the text "But difficult!" and wishing using any English text does not work. However, Elona+ Custom mod enables wishing with "secretchar" or "secretcharacter".
Pasting in the Japanese text above will work, provided your system is using Japanese language for the game. This can be done fairly in Windows simply by loading the game using Microsoft Applocale, if you want to avoid resetting your computer's system language. Pasting the font in the config.txt under the (font) font1 section into the font2 section should fix text display problems if you still have them afterwards. If windows will not allow you to right-click to bring up the paste option for the wish, you can instead use Ctrl+V to paste it in the wish box.
Japanese text
Edit
隠されしムジャフの定理
	written by カイン

しかたがない、全てを話そう。この街がガレ
キの山に変わった日だ…私はあきらめてチ
ャンスを待ったが完全に無駄だったらしい。
ライオンとの度重なる死闘は彼女の右脇腹
を確実に蝕んではいなかったのだ。ああ…
願わくばここから逃げたい。逃げるぜ!捕ま
えてみやがれコンチクショー!(次回に続く)
Reading the first character on each line (except the "written by" one) gives you the text for the wish.
Translated by J.S.
隠されしムジャフの定理
	written by カイン

しかたがない、全てを話そう。この街がガレ
キの山に変わった日だ…私はあきらめてチ
ャンスを待ったが完全に無駄だったらしい。
ライオンとの度重なる死闘は彼女の右脇腹
を確実に蝕んではいなかったのだ。ああ…
願わくばここから逃げたい。逃げるぜ!捕ま
えてみやがれコンチクショー!(次回に続く)

Mujaf's Hidden Theory (written by Cain)
I'm at a total loss over what to do, so I'll just get this off my chest.
The day this town was turned to a mountain of scrap, I gave up and waited for my chance. But, it seems it was all for nothing. It was all that fighting with lions that destroyed her right side. Agh... I just want to run away from here.
I'm going to escape! You just try to catch me! (Continued next time)
Ad blocker interference detected!
Wikia is a free-to-use site that makes money from advertising. We have a modified experience for viewers using ad blockers

Wikia is not accessible if you've made further modifications. Remove the custom ad blocker rule(s) and the page will load as expected.